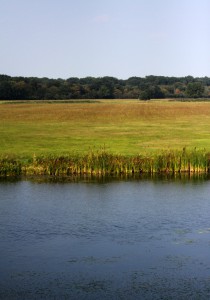 When I moved to Berlin at 25, I thought the best life was one lived out of a suitcase. I lived cheaply and travelled as often as I could. But in my early 30s, I settled down. I got married and had two daughters, only 18 months apart.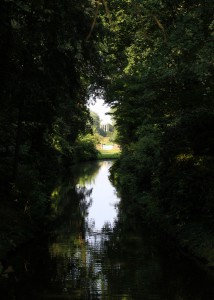 Although I admire those adventurers who travel full-time with kids and the family dog in tow, my husband's job wouldn't allow for it. Besides, I like my local life here in Kreuzberg: the strolls through Marheike Markthalle, the lazy summer afternoons at Tempelhofer Feld, learning about the stars and dinosaurs with my daughter's at the Naturkundemuseum. Longer trips like, say, a four week trek through the Himalayas, may be off the table for now, but I still do a lot of traveling. Luckily, some of the best places are only an hour or two from my home. Like the gardens in Wörlitzer Park.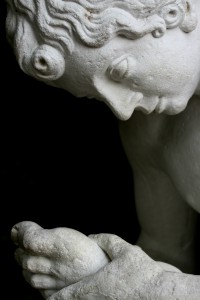 Built by Duke Leopold III of Anhalt-Dessau, Wörlitzer Park is as an English park with a touch of Dutch style, which he designed together with his friend, the architect Friedrich Wilhelm von Erdmannsdorff. Their designs were inspired by the Enlightenment and the Duke's travels during his Grand Tour.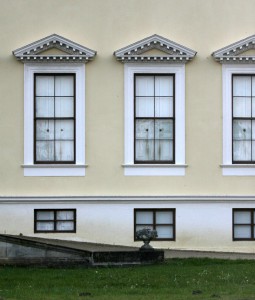 The park takes you along twisting paths, sometimes circling off into little hills where you'll find a lookout, a lonely rustic cottage, or a classical sculpture like the second photo above. They lead you along the Elbe river, where tourists—though luckily not too many—take boats rides with chatty tour guides. I heard one telling his passengers they had just drifted past a magnificent Sequoia Redwood Tree, Mammutbaum in German. A native Northern Californian, I can tell you he was making up the tour as he went along: the tree was definitely not a Redwood, though I did see a real one later on.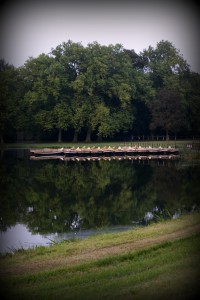 Although you can visit two stately buildings, Schloss Wörlitz and the Gothic House, the most fascinating structure by far is Stein Island and Villa Hamilton.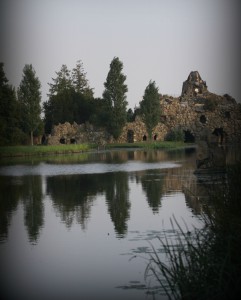 The Duke built Stein (stone) Island in memory of his trip to Italy and friendship with Lord Hamilton. It features a small, neo-classical villa and a series of artificial stone caves and chambers. Since both men were fascinated with volcanoes, particularly Mount Vesuvius, the island comes complete with one of the world's only artificial volcanoes at the top of the island.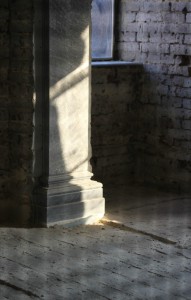 What I found fascinating about the caves was how sensual they were, how Art Deco the style of the grottos and the chapel, as though wild orgies took place there in the 1920s. But the era was wrong: the island and park itself were designed and built in the late 18th century. Maybe beefy Greek lads really did wrestle naked back and the day, and maybe people in the 18th century saw things differently; but by modern standards, this statue at the center of one of the caves was more than a little homo erotic.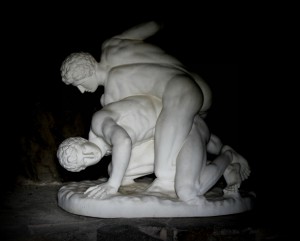 How interesting that Lord Hamilton's wife was none other than the it-girl of the 18th century, Emma, Lady Hamilton, muse to many and mistress to some until she married Lord Hamilton. On their wedding day, he was sixty and she was 26. Later, she became Horatio Nelson's lover. By then Nelson was already missing an arm, many of his teeth and was prone to violent coughing fits, but hey, the man was a star. Apparently their relationship was tolerated by Lord Hamilton, if not outright encouraged. Such a delicious story I had never heard before my trip to Wörlitz.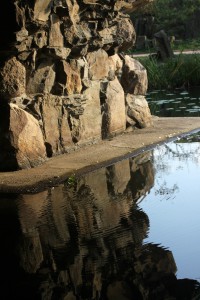 A beautiful day, a fascinating story, a wonderful experience. And all less than a two-hour drive from Berlin!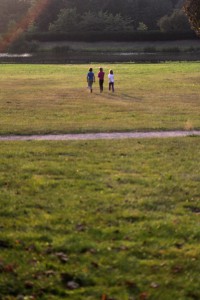 Travel information: 
Wörlitzer Park is located in Wörlitz, a charming village near the small city of Dessau in Saxony-Anhalt. You can reach it either by car or train and bus.
By car:
From the A 9 Nürnberg-Berlin, take the Dessau-Ost or Vockerode exit
From the A 2 Dortmund-Berlin, take the Burg exit, continue on the B 184 until Dessau, then take the B 185 until Oranienbaum and you reach Wörlitz.
By train/bus:
Take the train to Dessau and hop on the 304 bus. Wörlitz is about 11 miles away, so you could also bike or walk there if you feel up to it. To do so, take the Fürst Franz hiking trail.
Where to stay:
Wörlitz has several highly rated 4 star hotels, like Landhaus Wörlitzer Hof and Ringhotel am Stein, which are both located directly at the park. If you're more of a B&B kind of person, check out the pension Zum Hauenden Schwein. If you're traveling on a budget, you can also find several budget hotel chains in Dessau.
Where to eat:
Although Wörlitz offers many dining options, the best place to eat hands down is Zieglers, which serves up an array of tasty local cuisine.
Two other great things to do:
Bike or walk along the nearby Elbe River
Check out the Bauhaus Museum and design school in Dessau
Hop on the train and head over to Leipzig, which is less than an hour away